M40 Easily Fits on Bien-Air® 4VLM, 4VR 400 and B4VLR
The new NSK M40 micromotor employs the advanced technology of coreless DC motor. This technology smoothly delivers powerful torque and also minimizes any heat generation. M40 provides a small, yet high performance and quiet operation. M40 is able to connect to Bien-Air® short rotary connector. The clinician can benefit from a wide selection of instruments.

Features:
The ideal combination of speed and torque

Minimum heat generation

Quiet smooth operation from 60 to 40,000min-1

Optic micromotor

Lightweight




For more information:
http://www.nsk-nakanishi.co.jp/en/dental/product/prosthetics/pr010306.html
http://www.nsk-nakanishi.co.jp/en/dental/product/prosthetics/pr010310.html
A new generation of micromotors as well balanced as an air turbine
A large LCD, simple 5-key operation and a lightweight, cordless handpiece assure easy use even during the most delicate endodontic procedures. The Auto Reverse & Alarm Function alerts you with an audible sound to let you know that the load is about to reach the preset torque level allowing you to unload the file even before the Auto Reverse issetting in. 5 programs for different file systems. TC2 supports most major brands of Ni-Ti files.
NLX nano has been designed to minimize weight and size to improve the balance of instrument and motor in the hand of the clinician, reducing fatigue during prolonged procedures. Despite its small size and light weight, the NLX nano is as powerful as traditional micromotors and offers wider range of speeds.
Its 180°Vector Control assures smooth and stepless control over the entire speed range.
Thanks to LED illumination, it now delivers 32,000 LUX*1, natural daylight quality light and assures clearer vision, reducing fatigue during operation.
Feel our quality of NLX nano micromotor.
*1 Figures by NSK laboratory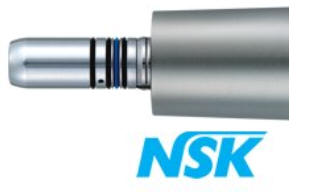 NLX Plus offers 3 user-friendly endo modes; auto-reverse on, auto-stop and auto-reverse off
Extra small, extra light, brushless micromotors

Perfect balance with compact body

Delivering powerful 3.4 Ncm torque

32,000 LUX*1 of LED illumination assures daylight quality light and clearer vision

Durable with solid titanium body and scratch resistant DURACOAT

Fully autoclavable micromotor
For More Information:
http://www.nsk-nakanishi.co.jp/en/dental/product/prosthetics/pr010311.html
Stand-alone, brushless, surgical micromotors
Even Smarter with Advanced Torque Calibration and Brighter with Optic Illumination
With innovative Advanced Torque Calibration (ATC), NSK's smart surgical system gets even smarter.
ATC allows the system to intelligently calibrate the micromotor to the optimum setting for each attachment that has its own resistance characteristics.

ATC assures higher torque accuracy as well as safer and smoother operation during the treatment.

Other notable advantages of Surgic XT Plus include the Cellular Glass Optic that effectively illuminates treatment spots and the micromotor effortlessly endures prolonged surgical procedures without significant heat generation.

Powerful 50 Ncm torque and 210W hi-power micromotor

Flexible Speed Control between 200 ~ 40,000 min-1

Optic Brushless Micromotor with the Lowest Noise and Vibration Level

User-friendly Simple Operation

Up to 8 User-programmable Preset Memories

Hands-free Operation via Foot Control Unit

Automatically Calibrates Micromotor to Each Attachment

Autoclavable

Control Unit

Max.Output/ Max.Torque : 210 W/ 50 Ncm

Power Supply : AC120V/ 230V, 50/ 60 Hz

Max.Pump Output : 75 mL/ min

Programs : 8 Programs

Dimensions : W268 x D230 x H103(mm)

Micromotor

Ti-Max X-SG20L

SG50LED

SGL50M

S-Max SG20

Non-Optic

SG50MS

Foot Control

Speed Control : Variable

Foot Control Functions : Speed Control, Coolant Control, Forward/ Reverse, Program Control

Applied Standard : IPX8